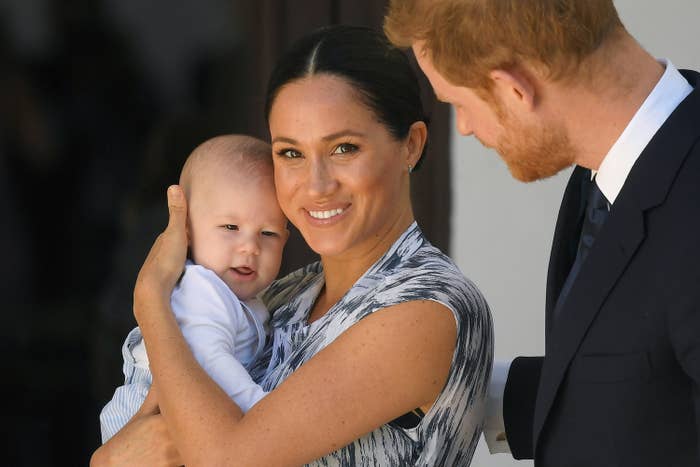 Prince Harry and Meghan Markle (aka the Duke and Duchess of Sussex) released their first podcast Tuesday, a holiday special featuring a wide variety of high-profile guests and a special appearance by their 1-year-old son Archie.
Archie appears at the end of the episode and, with his parents' encouragement, wishes listeners a Happy New Year.
The duke and duchess — who introduce themselves as "Harry" and "Meghan" — host the first episode from their Spotify-exclusive Archewell Audio company.
The holiday special features a "special collection of inspiration, reflection, and perspective" from 13 guests that the Sussexes describe as "people that inspire us [and] people that we admire." It's a pretty diverse list that includes Sir Elton John, Deepak Chopra, tennis player Naomi Osaka, chef José Andrés, author Matt Haig, producer Tyler Perry, professor Brené Brown, and voting rights activist Stacey Abrams.
Abrams, whose work mobilizing voters in Georgia has been widely credited as a key factor in Joe Biden's win of the state, references the election and the protests for racial justice that swept the United States in 2020.
"I love the state of Georgia and this year was a year when that love was tested," Abrams said. "Where the darkest moments like the murders of Ahmaud Arbery of Glenn County and Rayshard Brooks of Atlanta were met with silence and sometimes with anger. But they were also met with the persistence of young voices who were in the streets demanding change,"
"But they also demanded change at the ballot box. That's something I'd always hoped for for Georgia but to know that it was real, to see it in action, was just transformative."
The following two tabs change content below.
THERE IS A TIDE IN THE AFFAIRS OF MEN..