Read Time:
5 Minute, 31 Second
Netflix just dropped a film called Finding 'Ohana. It's basically a cute and updated homage to iconic '80s adventure films like The Goonies and the Indiana Jones series. But this new story is set in Hawaii, has a deeper message about family, and it even features a cat riding around in a wagon.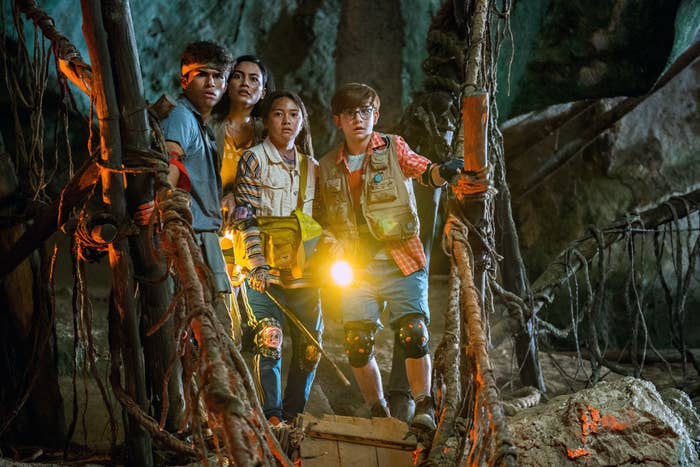 Here's a trailer, in case you wanna wet your whistle:
So, I went ahead and checked it out. And here's 77 thoughts I had while watching Finding 'Ohana:
Fair warning: Spoilers ahead!
1. Based on the trailer, I'm full-on expecting this to be The Goonies…but in Hawaii.
2. Oh, we're starting in NY. JK!
3. A phone holder on the bike bar…slingshot to change the crossing light…these kids are way smarter than I was at their age.
4. OMG geocaching — I only know about this because of my boyfriend's nephews. LOL I am old.
5. OH! It's an actual geocaching competition. Is…is this a thing???
6. Imagine being mad about having to go to Hawaii for the summer.
7. Ah yes, a "final notice" bill. The Goonies inspo is starting.
8. LOL Pili not knowing what a TV antenna is — this movie is determined to make me feel ANCIENT.
9. Wow, grandpa looks a lot younger than I was expecting! Good genes.
10. Oh, I see, he's a casual butterfly knife–wielding grandpa.
11. Hmmm, a mysterious old van full of all kinds of tchotchkes? Bet Pili finds a treasure map.
12. OK, well she didn't find a map, but a mysterious journal. Still very Indiana Jones (and I'm here for it).
12. "Cheese on rice!" Lmaoooooo. Who is this kid?
13. ALERT: WE HAVE A CAT RIDING IN A WAGON.
14. And the cat's name is Mortimer. *cries*
15. I love Mortimer.
16. "We honor the dead by telling stories and keeping their wailua alive, their spirit, with…aloha." THERE'S THE SETUP!
17. SECOND ALERT: POSTER OF KEANU REEVES.
18. "Breathtaking." YES, girl. Same.
19. Appreciating this multi-generational love for Keanu. KEANU SPANS ALL GENERATIONS.
20. And here's a very official mention of Indiana Jones!
21. Oh no! Not the brownies!
22. How did she catch all those brownies mid-fall? I need answers.
23. Ugh, this cat is killing me haha.
24. "I'm sorry you had to hit me?" Lmaoooo. Casper with all the good lines.
25. Treasuuuuure. Here we go.
26. This flashback with the narration is giving me very Drunk History vibes.
27. Wow, I reallllllly wish I could be in Hawaii right now.
28. Man, remember walking around outside and meeting up with friends? SIGH.
29. OMG IT'S DATA!!!!!!!
30. GOONIES NEVER SAY DIE!!!!!!!
31. Ugh, I LOVE that Ke Huy Quan is in this. TOO APPROPRIATE.
32. *Tears up*
33. MMMM SPAM MUSUBI. Give. Now.
34. This coin lining up with the island mountains is STRAIGHT OUT OF GOONIES.
35. "Tourists ruined the road up there." LMAO. Also, ugh.
36. Uhhhhhhhhh. Noooo grandpa!
37. Shoutout to NY bodegas. 😉
38. Shoutout to double rainbows.
39. Blocks tied to shoes for driving? Why yes it is another Indiana Jones reference! And, more specifically, a reference to Ke Huy Quan's character Short Round… It's a double reference!
40. Alright, cool, Kualoa Ranch! Where they shot a lot of Lost.
41. Haha, OK, they literally just mentioned shooting Jurassic Park here…
42. …and Lost.
43. Once again, REALLY WISH I COULD BE IN HAWAII RIGHT NOW.
44. E: "Old people phones." Me: *DIES*
45. OMG. Imagine being 12 years old and getting to drive around by yourself on a 4-wheeler through Hawaii looking for treasure.
46. Third Keanu reference.
47. "Shut your mainlander mouth, Keanu is a Hawaiian treasure." I need this on a shirt.
48. If I fell down a deep, dark, scary cave and landed on a skeleton, personally, I would have a panic attack. Just sayin'.
49. For the record, Monks was a pretty good artist.
50. Oh, yeah, NO to crawling through teeny, tiny, cave spaces.
51. It's always funny how people in movies can tear off parts of their clothing so easily.
52. Hey look, a wolf spider. It's a no from me, thanks.
53. Here come the waterworks.
54. It's not a true family film unless there's crying. A LOT of crying.
55. It's also not a true adventure film unless there's a very dangerous-looking rope bridge…
56. …and that bridge breaks.
57. It's gotta be like REALLY hot in that cave, right? I mean, there's literal lava flowing below them.
58. A Marie Kondo reference!
59. Singing through a crisis? WHY NOT.
60. UHHHHHHHHHHH
61. This kid is way too calm for having an insane spider bite, I would be having my second panic attack at this point.
62. Bioluminescent Algae would be a good name for a band.
63. Oh! And we have a flipping pirate!
64. Never underestimate the power of a friendship bracelet, folks.
65. TREASURRRRRE! *said in pirate voice*
66. Uh oh…here come the Night Watchers.
67. LOL the way Cameron tucked his glasses away. As a fellow glasses-wearer I felt that.
68. Am I the only person who does that thing where you hold your breath as long as the person under water is also holding their breath?
69. Is it common to have fish tanks in hospital rooms? I mean, I'm guessing not, but man what a nice perk.
70. Oooooh you all in trouble nowwww.
71. Uh oh…here come the waterworks again.
72. I'm not entirely sure what's happening here, but I'm emotional.
73. OMG, imagine having to keep all of this a secret.
74. Oh yeah, I forgot E has a severe spider bite. THE HECK?! How's he still so chill about it?! LOL.
75. Hahaha, OK, I'm actually laughing at the explanation of how all the treasure got all over the cave. That's pretty good.
76. Awww, I love this ending.
77. BUT WHAT ABOUT THE CAT?!?!