Read Time:
4 Minute, 18 Second
In a post on his Instagram account on Tuesday, Lil Nas X addressed the considerable similarities between FKA Twigs' "Cellophane" music video and the video for his new single "Call Me By Your Name," which was released last week.
It's fair to say the video has caused some controversy among conservative circles since it was released, at one point showing Nas sliding down a pole into hell and giving Satan a lap dance.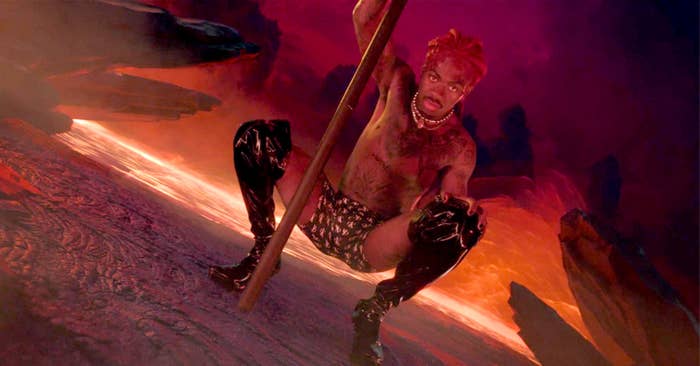 On Saturday, Andrew Thomas Huang — the director of FKA Twigs' "Cellophane" music video — retweeted a side-by-side video clip from a user who said Nas had taken "one too many notes" from Huang and Twigs in his new video.
Both clips show the artist beginning in a heavenly place in the clouds, and eventually falling-slash-pole-dancing down into something darker.
Huang went on to address the similarities in a Twitter thread later that night, saying he was a fan of Lil Nas X and recognized that Nas had collaborated with Twigs' choreographer on "Call Me By Your Name," but accusing Nas and his label Columbia Records of "causing harm" by "repurposing" the images and ideas used in "Cellophane."
"Years of work went into the creation of 'Cellophane,' from physical training to the emotional labor of unpacking Twigs' life to construct images [that] told her story of trauma and recovery," Huang wrote. "'Cellophane' was a confession in the most vulnerable sense."
He went on: "When an artist is in a position of power (amplified with the help of major record labels, social media, PR, etc) and repurposes someone's labor and ideas to serve their brand image, they cause harm by displacing the efforts of the artists who did the original leg work."
"Intentional or not, copying other artists' work happens. Making music videos is a labor of love. The demand for content pushed by major labels renders our work disposable and pits artists against each other."
Huang concluded his thread by urging those in the music industry "to respect directors, uphold artistic accountability and honor the ingenuity of artists dedicating their blood sweat and tears to imagine better futures amidst a broken industry."
Of course, Huang wasn't the only person to notice the similarities — plenty of fans hopped onto Twitter to accuse Nas of "ripping" the visuals from "Cellophane."
And many pointed out how unfair it was that "Old Town Road" had beaten "Cellophane" for the Best Music Video Grammy in light of the situation.
Now Lil Nas X has addressed the accusations himself, saying in an Instagram post on Tuesday night that he was "not aware" of the similarities between the two videos and revealing he had received a phone call from Twigs letting him know.
"I want to show love to @fkatwigs & @andrewthomashuang!" he began the post. "The 'Cellophane' visual is a masterpiece."
"I was not aware that the visual would serve as inspiration for those who worked on the effects of my video," Nas continued. "I want to say thank u to Twigs for calling me and informing me about the similarities between the two videos, as I was not aware they were so close."
"Was only excited for the video to come out," he said.
"I understand how hard you worked to bring this visual to life," Nas ended his post. "You deserve so much more love and praise."
In a response on her own Instagram account, FKA Twigs thanked Nas for their "gentle honest conversations" and for acknowledging that "Cellophane" had been an inspiration for "Call Me By Your Name."