Read Time:
3 Minute, 54 Second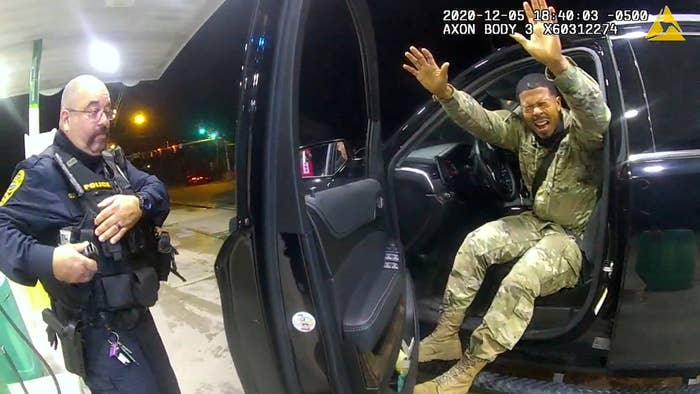 Virginia officials announced late Sunday they had fired a police officer who pepper-sprayed a Black US Army Medical Corps lieutenant in a December traffic stop of which footage went viral on social media over the weekend.
William Saunders, town manager of Windsor, a small community west of Norfolk, said officer Joe Gutierrez had been let go after an investigation into his use of force against Lt. Caron Nazario on Dec. 5, 2020.
The investigation found police procedures had not been followed appropriately, prompting further training across the department, Saunders said in a statement.
"The Town of Windsor prides itself in its small-town charm and the community-wide respect of its Police Department," Saunders said. "Due to this, we are saddened for events like this to cast our community in a negative light."
"Rather than deflect criticism, we have addressed these matters with our personnel administratively," he said.
The announcement came hours after Virginia Gov. Ralph Northam ordered state police to open an independent investigation into the traffic stop.
"The incident in Windsor is disturbing and angered me," Northam said in a statement on Sunday afternoon.
In addition to the Virginia State Police investigation into the incident, Northam invited Nazario to meet with him.
"Our Commonwealth has done important work on police reform," Northam said, "but we must keep working to ensure that Virginians are safe during interactions with police, the enforcement of laws is fair and equitable, and people are held accountable."
Virginia Attorney General Mark Herring had also called the interaction "unacceptable."
"The video doesn't show anything to justify how Lt. Nazario was treated," he said.
Earlier this month, Nazario sued Gutierrez and his colleague officer Daniel Crocker in federal court for, among other things, violating his constitutional rights against unreasonable seizure, illegal search, and excessive force.
In his lawsuit, Nazario described driving back from his duty station wearing his uniform in his newly purchased Chevrolet Tahoe. The car was so new, he said, that he was yet to receive license plates so had taped temporary cardboard ones to the rear window.
When police tried to pull him over for his lack of a permanent plate, Nazario said he slowed down and put his turn signal on to indicate compliance, but continued to drive for less than a mile so he could stop in a safe, well-lit public place.
In a BP gas station parking lot, the two officers withdrew their weapons as Nazario set up his cellphone on the dashboard to record the interaction.
"What's going on?" he can be heard asking the officers.
After Nazario, with his arms raised, continued to decline to exit the car unless he received more information about why he was being stopped, Gutierrez can be heard telling Nazario he was "fixin' to the ride the lightning," which Nazario's attorneys alleged was a colloquial term for being executed by the electric chair.
When Nazario told the officers he was afraid to exit the vehicle, Gutierrez could be heard responding, "Yeah, you should be."
As Nazario asked the officers why they were treating an active duty service member in such a manner, Crocker tried to open the driver's door. Gutierrez then told his colleague to back up, before spraying Nazario in the face with pepper spray.
The officers' body cameras continued to capture Nazario's struggle to exit the vehicle after being sprayed and tell the officers he was concerned his dog in the rear seat was also "choking" from the pepper spray.
When he exits the car, the officers wrestle him to the ground. "Why am I being treated like this?" Nazario asks. "This is really messed up."
"Because you're not cooperating," Gutierrez responds.
Nazario is seeking $1 million in compensation for his treatment, which he said was "consistent with a disgusting nationwide trend of law enforcement officers, who, believing they can operate with complete impunity, engage in unprofessional, discourteous, racially biased, dangerous, and sometimes deadly abuses of authority."
No attorneys were listed for Crocker or Gutierrez, and the pair have not responded to media inquiries.