Read Time:
4 Minute, 38 Second
[ad_1]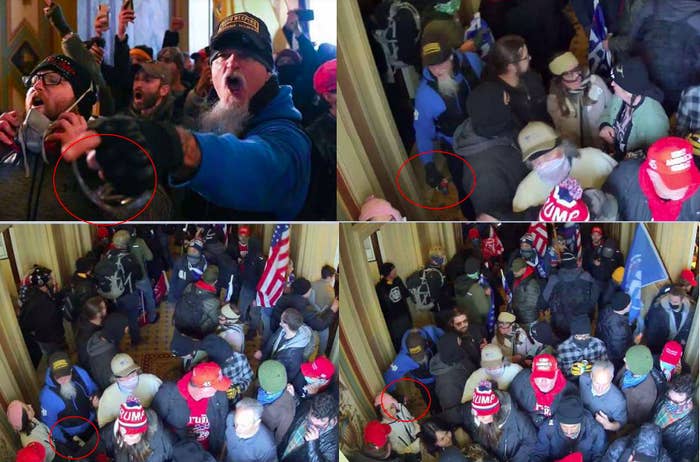 Federal prosecutors have secured a guilty plea from a man charged with participating in the Capitol riots as a member of the Oath Keepers, marking the first conviction in the sprawling investigation of the events of Jan. 6, as well as the first known cooperator in the case.
Jon Schaffer, 52 years old, of Fort Wayne, Indiana, appeared before a federal judge in Washington, DC, on Friday morning, pleading guilty to obstructing an official proceeding and entering a restricted building with a deadly or dangerous weapon, both felonies. Schaffer was captured on surveillance video inside the Capitol carrying what the government identified as "bear spray," which they said he sprayed at Capitol Police officers.
"He is the first individual to step forward in this historic investigation and take responsibility for his role in the Capitol riot," said his attorney Andrew Mercantel in court.
As part of his plea, Schaffer, who is best known as the lead guitarist and founding member of the heavy metal band Iced Earth, has agreed to provide information to investigators and potentially testify on behalf of the government at trial. The plea agreement itself has not yet been made public.
To date, more than 400 people have been charged in the ongoing probe, which the Department of Justice has said is among the largest in its history. In recent days, prosecutors have stated that they are hoping to forge additional plea deals with other defendants in the case.
BuzzFeed News first reported that the Justice Department was in advanced negotiations with Schaffer earlier this month after a sealed document was inadvertently posted online briefly. Under federal sentencing guidelines, Schaffer could face a prison term of between 41 and 51 months for his crimes but could face significantly less time in exchange for his help as a cooperating witness. Judge Amit Mehta noted in court Friday that Schaffer had no prior criminal convictions on his record.
Schaffer was arrested and initially charged with six crimes on Jan. 17, after the FBI found he had entered the US Capitol carrying bear spray and "engaging in verbal altercations with Capitol Police officers." At the time, he was wearing a baseball cap identifying him as a lifetime member of the armed extremist group Oath Keepers.

In a separate case before the same judge, a dozen alleged members of the Oath Keepers are facing conspiracy charges for their role in what prosecutors claim was a planned and coordinated attempt to interfere with certification of the Electoral College. That prosecution is the largest of any to come out of the Capitol riots to date and, because of the charges, perhaps the most serious.
Prosecutors have claimed that the members of the alleged conspiracy prepared for weeks if not months, stashed weapons in a hotel outside Washington, DC, provided security details to Roger Stone and others, forced their way into the Capitol building, and then discussed plans to continue an armed resistance against the US government after the inauguration of President Joe Biden.
No evidence has been shown to date directly linking Schaffer to that planning, and he does not appear to have been part of the "stack" formation of Oath Keepers that prosecutors say pushed into the Capitol building. But his apparent association with the Oath Keepers, an extremist group that was founded in 2009 and has claimed it has tens of thousands of members around the country, could be helpful to investigators in a number of ways.
The Indiana chapter of the Oath Keepers disavowed Schaffer after his arrest, claiming he was not a member of the local group, But the national organization, which sells lifetime memberships for $1,200, has not commented on his affiliation with the group.
In filings and in statements in court, prosecutors have indicated that they may charge numerous additional individuals associated with the Oath Keepers for their role in the events of Jan. 6. In addition, the Justice Department has revealed that it has been closely watching Oath Keepers founder, Stewart Rhodes.
Rhodes has not been charged in the case, but text messages, phone records, and other evidence presented by prosecutors show that he was deeply involved in planning for the day, that he was in direct contact with Oath Keepers just prior to them entering the building, and that he met with them on the Capitol grounds after they left. In a court filing earlier this week, prosecutors revealed that Rhodes was in direct contact with some of the now-indicted Oath Keepers as recently as early last month.
At an anti-immigration rally in Texas last month, Rhodes suggested he was preparing to be arrested at any moment.
Schaffer has been in jail since his arrest. In that time, Schaffer has seen both his bands get dropped by their labels and at least two of his bandmates have quit. Following his guilty plea, Schaffer was granted conditional release and his attorney asked that he be allowed to travel to Florida and Arizona to continue to record music. The request was granted.


[ad_2]

Source link