Read Time:
17 Minute, 10 Second
[ad_1]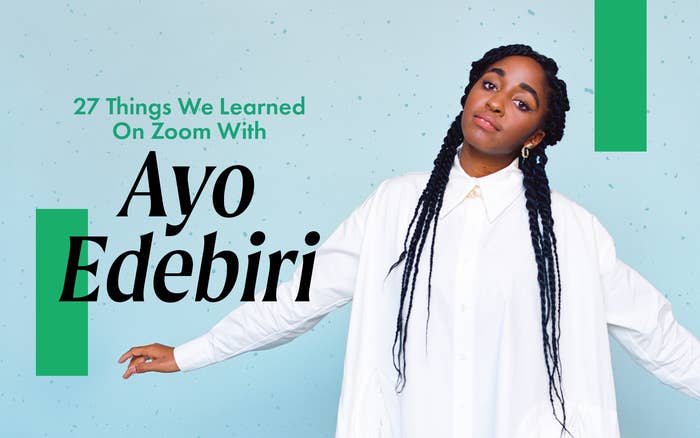 Before the holidays, up-and-coming talent Ayo Edebiri squeezed us into her very busy schedule to talk about her new role as Missy on Big Mouth, her work on Apple+'s Dickinson, and many other fun anecdotes and tidbits from her childhood to present day. Now, this interview was something I've been super excited about because Ayo and I, Ehis Osifo, were childhood besties, and seeing her rise to the top makes me swell with pride. Here's everything else we learned/embarrassingly remembered from our youth:
---
1. What's the first thing you do in the morning?
Ayo: I've gotten into a bad habit of playing the New York Times Spelling Bee. It's this psychotic little game where you spell words. I try and get as far as I can. If I can make it to "Genius," then I'm buzzed for the day.
Ehis: This is the most on-brand shit I've ever heard. If only 12-year-old Ayo could see you now.
2. What are you currently binge-watching on Netflix?
I have gotten into a really nasty habit of watching the bad Netflix Christmas movies. They're smoothing my brain out like sandpaper. It's so crazy. In one night, I watched The Princess Switch: Switched Again, The Knight Before Christmas, and Christmas with a View — which is naturally about two chefs in a hotel in some kind of Colorado-esque ski resort. I know there are better movies out there to be watching, so I'm gonna try to better myself…but this is where I'm at right now.
"I would have the little boy from Stranger Things play me. I like him."
3. Name a celebrity on your bucket list to collaborate with on a project.
Honestly, Charlie Kaufman or Paul Thomas Anderson. If they ever think, "Oh, a Black woman, sure!" it'd be cool. [Laughs]
4. If anyone could play you in a movie, who would you pick?
I would have the little boy from Stranger Things play me [Writer's note: She was referring to Caleb McLaughlin]. I like him. In actuality, they would cast Zendaya to play me, and I would be like, "This is rude," because at the end of the movie they would then show a photo of real-life me, and [audiences] would be like, "Ummmm? What happened?"
5. Who was your childhood celebrity crush?
Ayo: Why are you smiling?
Ehis: Because I know what you're going to say.
Ayo: You think I'm gonna say Chad Michael Murray!
Ehis: Would I be correct? Because we called each other every week to discuss One Tree Hill.
Ayo: I actually had a dream about this, Sept. 28, and I wrote it down. Ming Tsai, Rick Moranis, Jett Jackson, Jewish King Raviv Ullman, Larry the Cucumber…Chad Michael Murray.
The many childhood crushes of Miss Ayo Edebiri:
6. What's a typical day (in quarantine) like for you?
I get up, try to go for a walk in the morning, because that's important 'cause I guess if I don't go outside I'll be crushingly depressed in my bed. I listen to my little crime podcast — I started listening to this one today called You're Wrong About. I finished this podcast about the Iraq War that was really good called Blowback — I just really like white people telling me about crime. Then, I get back home, try to eat breakfast, make a lil' coffee situation. Then I just go to work, do work, probably stop doing work, look outside the window and go, "Yuck, it's dark, ugh, it's like 11 p.m.," when it's 4 p.m — but I've already decided I've wasted my day. Try and text my mom, once a month — just kidding. [Laughs] Helen be textin' me. Then I get my dad to do some Letterboxd reviews [you can follow him here.]
7. Have you picked up any new quarantine hobbies?
Something really fucked up that started happening lately is I got felt. I think I'm going to start felting and making little felt things. I have felting needles and I'm going to learn how to felt, I don't know what I'm going to make yet — if it's going to be scenes, portraits, embroidery on clothes, sculptures. The world is my oyster. I've also been trying to read more — I've half-read about seven books. I bought a used autoharp that I've strummed…about three times. OH, and I've been logging a lot of movies on my Letterboxd because all my close friends have autoimmune disorders, so this is how we keep in touch.
8. Who's the last person that texted you?
It was Mitra Jouhari sharing a screenshot from DeuxMoi — it was a blind item about someone who might be addicted to candy canes.
9. What is the most used emoji on your iPhone?
Pre-pandemic it was definitely cowboy hat guy 🤠. Mid-pandemic it definitely would have been the sigh 😪. For a while it was definitely crying guy 😭. But now it's 🙂. I've kind of left this physical plane.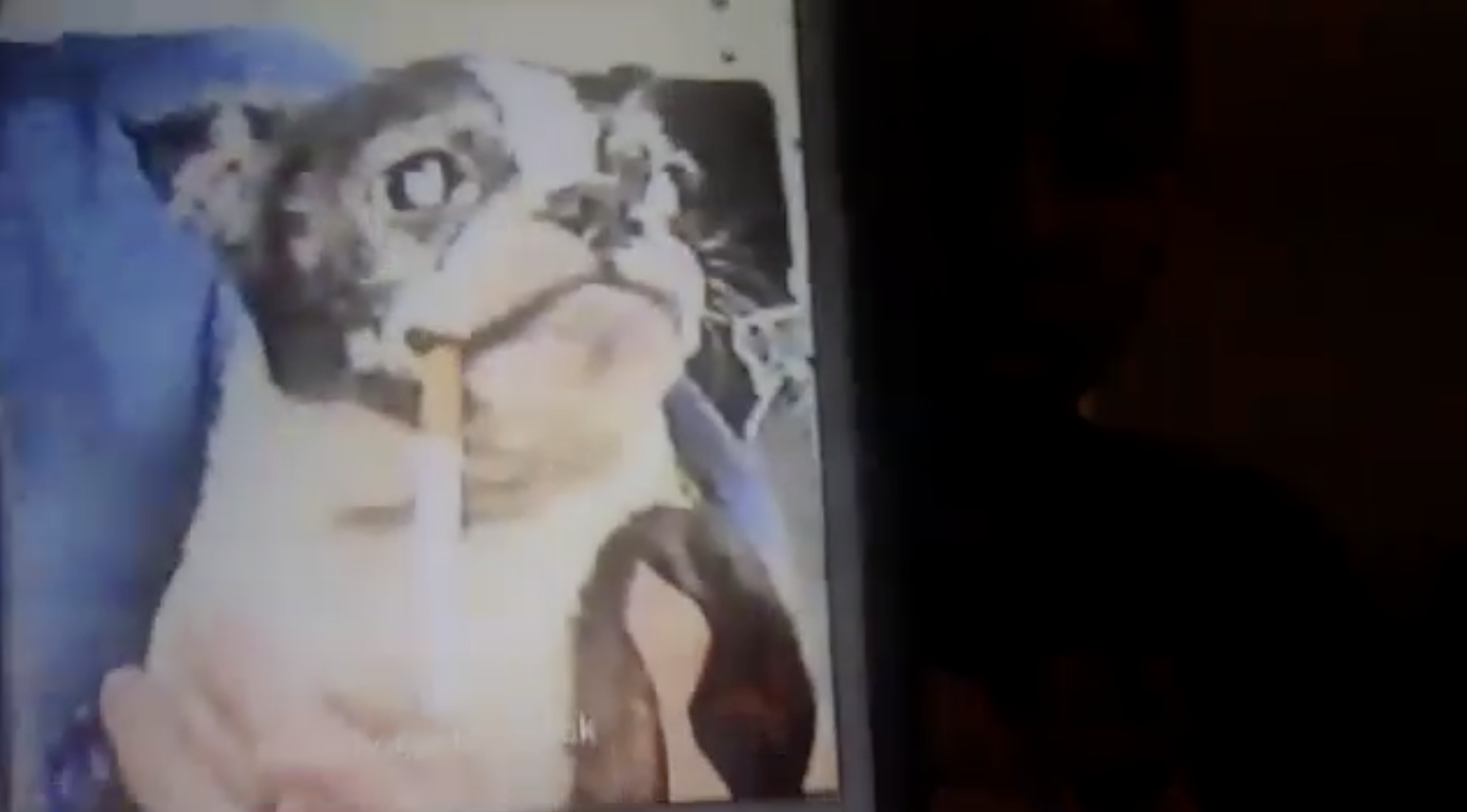 10. What is your current iPhone wallpaper?
It's the same wallpaper that I've had for many years, which is my friend's uncle's dog. I've never met my friend's uncle, or this dog. I think the dog passed away. The uncle has a cigarette in his mouth too, not just the dog, and I just think this image is so funny and perfect, from a photography perspective. It's moving, frankly.
11. What is the most recent tweet in your drafts?

Ayo: Oh, no…[Laughs]: Big news. They're doing a reboot of Designated Survivor about the time me and my dad both got food poisoning in the car in Nigeria and were pooping our pants and my mom had to be in the car while we were both pooping…randomly, I don't know why I never tweeted that? The other tweet in my drafts is: The thing about Boston is that many women still earnestly wear ballet flats with skinny jeans.
Ehis: Facts…and, ironically, it's always women who've never done ballet?
Ayo: Exactly! Ballet flats, skinny jeans, and North Face puffer jackets is the uniform.
12. What is your favorite on-set memory from Dickinson?

Oh, that's hard…hmmm…whenever there'd be a scene with all of the young people, like a party scene, all the girls would try to sit down in their cosets and try to eat snacks in the small set chairs…but once we figured it out, we'd just laugh and be stupid.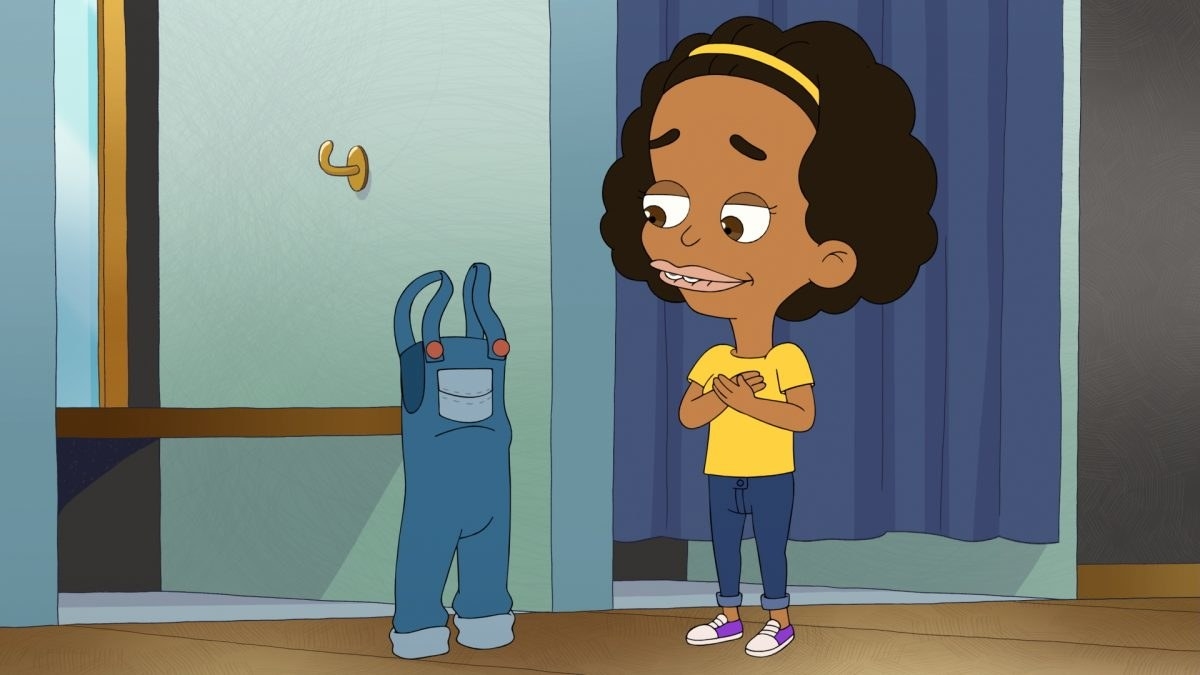 13. What's the number one thing you have in common with Missy from Big Mouth?
Ayo: Probably the fact that Missy and I both wrote fan-fiction, which is deep in the files of the family computer. We [Writer's note: she's referring to her and Im not her and Missy] definitely wrote Twilight fan-fiction…like, in Latin class? We wrote in a notebook that we passed back-and-forth. But it wasn't even sexual! It was just like, "I wanna follow the adventures of Jacob Black."
Ehis: We were very earnest with our fan-fic, like, "Oh, guess Jacob is gonna go make some hot dogs on the rez." No inaccuracies, it was canon.
Ayo: We relied heavily on the text — no embellishments.
14. Do you prefer stand-up or a sitcom writer's room?
They're both just very different. Obviously now I prefer a writer's room 'cause you can't do stand-up anymore. I definitely miss it, though.
15. Name three of your favorite comedians.
This is hard…only threeee???? Chelsea Peretti, Maria Bamford, and Jaboukie Young-White.
16. What would your hormone monster look like?
[Without a thought] So ugly. It would have that Ricky thing where like, the right arm would be short and the left arm would be long and then the right leg would be long and the left leg would be short. And they would have crazy bangs to the middle of the nose — you know, just basing it off of my pubescent experience. Oh, and they'd wear the t-shirt-and-tie combo, a la Avril Lavigne.
17. What was the most challenging part about working on Big Mouth?
I don't know! It's such a fun room — somedays I'd come home and be like, "Oh no, did I have too much fun at work today?" Also, drinking enough water in the day to make sure my voice sounds good for recording.
18. What do you want to see happen for Missy's character next season?
Well, I know what happens [laughs]. But, you know, jokes and fun and exploration.
19. Which show was more challenging for to write for: Sunnyside or Dickinson?
Well, Sunnyside was so hard to write for because that room was so incredible and so perfect to the point that us writers are still in a group chat together and we keep in touch. You know, the show only lasted one season — which is a reality for network TV — but it was such a cool room because it was so diverse, but not in an empty sense, you know? Everyone in the room was connected to the immigrant experience — half of the upper level writers were women of color. There was gender parity and racial parity and it was really hard to come to terms with the fact that I wasn't going to be writing on this show with these people anymore.
20. East coast or West coast?
I mean, I'm living on the West coast, so I have to be diplomatic but…617 all day. [Writer's note: (617) is the area code for TRUE Bostonians.]
21. Desert island: three movies you cannot live without.
Tampopo, The Player, and Notting Hill.
22. What is the your most star-struck moment?
I met Tim Robinson once — we've met a few times since then, but the first time we met he said, "Oh, your Instagram is really funny!" And I TRULY couldn't talk. There were all these famous people at this party, but I was speechless at Tim Robinson. It was really embarrassing.
23. What's the best gift you ever received?
In sixth grade my mom got me a green iPod Nano that she won at a work raffle and I cried.
24. Which do people mispronounce more often: your first name or your last name?
[Child of immigrants groan] My last name! Actually, I think they mispronounce my first name more but they MISSPELL my last name beyond recognition. Like, you spelled "Edinburgh," the capitol of Scotland, not my last name. I'll state it here: my first name is Ayo, like "Aye-yo," and my last name is Edebiri [Uh-deb-ory], like "a store for Deborahs."
25. What is your most cringe middle school memory?
Ayo: Oh man, this girl named [redacted] READ ME in the cafeteria! She was like, "You are so busted! Your toes are busted! You have no style!" So I went to my mom and was like, "We have to go to the mall." I had $150 saved up and I used that to buy a pair of Jordans, but I didn't have that much money left and there was a sale at Aeropostale, so I bought two cardigans and two cool shirts and one pair of skinny jeans. I kept trying to mix-and-match them — on the first day [redacted] was like, "You look good." But two weeks later, in the same cafeteria, [redacted] was like, "I see you mixing and matching your outfits! You have no style!" Seventh grade me was like, [laughs] "What the fuck is even the point of being alive?"
Ehis: And then we all became homies senior year.
Ayo: I literally wish her the best — she's really funny and talented.
"Life isn't a game of chance — it's a game of attrition."
26. What is your go-to adult beverage?
Honestly? A matcha latte with oat milk and a lil' bit of honey. It doesn't get more adult then that. I got one of them frothers? Woooo!
27. What is the best piece of advice you've ever received?
Ayo: It was from a playwriting professor I had. He said that life isn't as much of a game of chance as people like to make you think it is, it's a game of attrition, so stay in it and stay with people who you love and things will work out. Oh, also, my mom telling me, "Close ya legs!"
Ehis: Helen! My queen.
---
Thanks for chatting with us, Ayo! Be sure to catch her in the most recent season of Big Mouth on Netflix and in Season 1 of Dickinson on Apple+.


[ad_2]

Source link