Read Time:
2 Minute, 16 Second
[ad_1]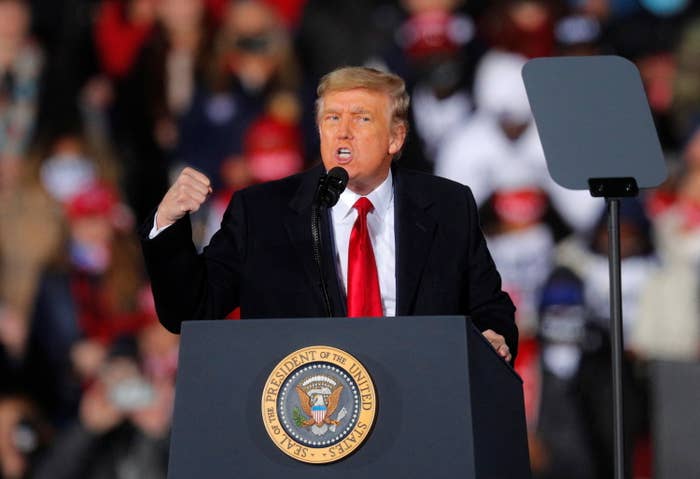 Facebook CEO Mark Zuckerberg announced Thursday that the company is blocking US President Donald Trump from its platform "indefinitely." The ban will be in place for "at least the next two weeks," the company said.
This is the first time a major platform has banned Trump.
"His decision to use his platform to condone rather than condemn the actions of his supporters at the Capitol building has rightly disturbed people in the US and around the world," Zuckerberg wrote. "We removed these statements yesterday because we judged that their effect — and likely their intent — would be to provoke further violence."
Following the violence on Capitol Hill, Facebook and Instagram, which it owns, as well as Twitter suspended the president's accounts. Twitter threatened to permanently ban Trump, but has not yet done so.
Zuckerberg wrote that statements made by the president were removed because they condoned violence.
"We believe the risks of allowing the President to continue to use our service during this period are simply too great," Zuckerberg wrote. "Therefore, we are extending the block we have placed on his Facebook and Instagram accounts indefinitely and for at least the next two weeks until the peaceful transition of power is complete."
The ban also applies to Instagram. "Given the exceptional circumstances, and the fact that the President has decided to condone rather than condemn yesterday's violence at the Capital," wrote Instagram head Adam Mosseri, "we are extending the block we have placed on his accounts indefinitely and for at least the next two weeks."
Facebook's move comes as the company thwarted internal discussion of the coup attempt among employees. "Donald Trump has directly incited a terror attack on Capitol Hill," one Facebook employee wrote. "We need to take down his account right now. This is not a moment for half measures."
Advocates have also long voiced concerns about Trump using his social media to spread disinformation and incite violence.
"Enough is enough. It's time for Facebook and Twitter to kick Trump off their platforms," said Rashad Robinson, the president of civil rights non-profit Color Of Change, prior to the announcement of the Facebook ban.
Following the announcement, hundreds of internal posts praised Zuckerberg for the decision, including ones that said, "THANK YOU THANK YOU THANK YOU," and "Proud of this decision, thank you."
"All it took was an armed insurrection of the cap building and two weeks left of his presidency," one former Facebook worker told BuzzFeed News.
Additional reporting by Ryan Mac.


[ad_2]

Source link