Read Time:
3 Minute, 51 Second
[ad_1]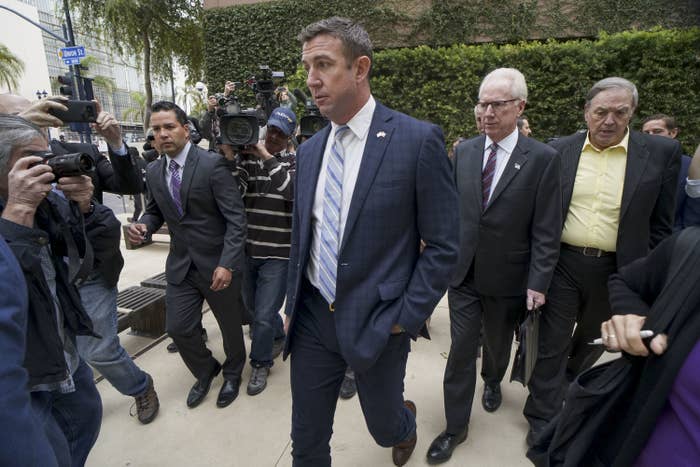 President Donald Trump on Tuesday pardoned two former House Republicans who were convicted of federal crimes while serving in Congress, as well as two key figures in the 2016 Russian election interference investigation.
Former California Rep. Duncan Hunter and his wife were arrested in August 2018 after federal prosecutors accused them of spending more than $250,000 on family vacations, theater tickets, and meals. The couple initially pleaded not guilty, and Hunter blamed the misuse of funds on his wife, who had served as his campaign manager.
Then last December Hunter admitted to stealing campaign funds after his wife agreed to cooperate with prosecutors and changed her plea. He was due to begin his 11-month sentence in federal prison in 2021 after his surrender was delayed because of the coronavirus pandemic. Due to Trump's pardon, he won't serve any time.
The White House argued in a statement announcing the pardon that Hunter's case could have been dealt with in civil courts, adding that the decision was supported by former Federal Election Commission chair Bradley Smith.
Trump also granted a full pardon to former New York Rep. Chris Collins, the first Republican in Congress to back Trump in the 2016 presidential election, who was serving a 26-month sentence for insider trading and lying to the FBI.
The former lawmaker was charged in August 2018 in connection with the sale of stock of an Australian biotech company, for which he sat on the board of directors. Prosecutors alleged that Collins ordered his son to sell the company's stock after getting advance knowledge of the failed results for a drug trial. By selling stock before news of the drug trial became public, he and his associates avoided $768,000 in losses, prosecutors said. His son Cameron Collins was also charged as a result of the investigation.
In both cases, the Trump administration claimed the reprieves were handed down at the request of "many" members of Congress.
Trump also commuted the remaining prison sentence of former Rep. Steve Stockman, of Texas, who was sentenced to 10 years in 2018 for misusing charitable funds.
The president also issued pardons for former campaign adviser George Papadopoulos and Dutch attorney Alex van der Zwaan, both of whom were convicted of lying to investigators as part of special counsel Robert Mueller's investigation into Russian interference in the 2016 election.
Papadopoulos, who had served as a foreign policy adviser to Trump's 2016 presidential campaign, was the first person to plead guilty in Mueller's investigation.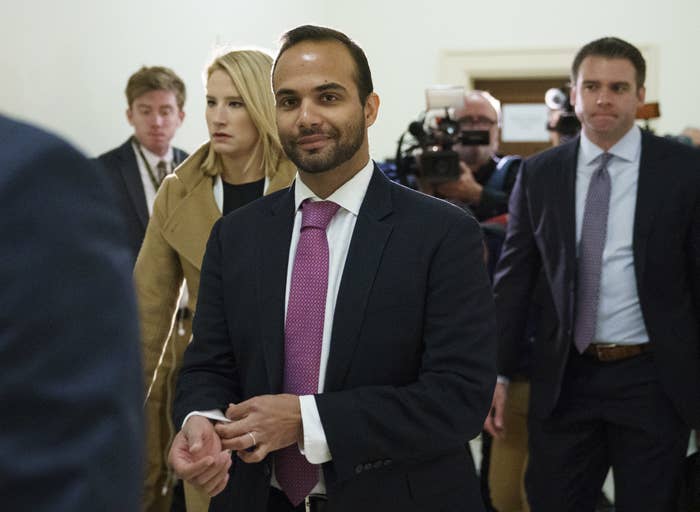 He admitted to lying to FBI agents about his communications in the spring of 2016 with a London professor who told him the Russians had "dirt" on Hillary Clinton. That Russia connection didn't pan out for Papadopoulos, but it put him on the Mueller team's radar early on in the probe.
In September 2018, a federal judge in Washington, DC, sentenced him to 14 days in prison, which he served later that year. The judge had handed down a lower sentence than he'd been prepared to impose, explaining at the time that he was impressed by Papadopoulos's show of remorse in court. But after Papadopoulos finished serving his sentence, he became an outspoken critic of the Russia investigation and pushed claims that he'd been caught in the crosshairs of a politicized "plot" to take down Trump.
"Thank you, Mr. President!!! This means the world to me and my family!" Papadopoulos tweeted on Tuesday night.
Van der Zwaan, like Papadopoulos, also pleaded guilty to lying to the FBI in connection with Mueller's investigation, but his connection to the Trump campaign wasn't as direct. Years before the 2016 election, Van der Zwaan had worked with Paul Manafort and Rick Gates, who would both go on to briefly lead Trump's 2016 campaign.
Van der Zwaan pleaded guilty to lying about communications he had in 2016 with Gates and a person only identified as "Person A" related to their past work together on a controversial 2012 report about the trial of former Ukrainian prime minister Yulia Tymoshenko. He received a 30-day sentence and was deported to the Netherlands after finishing his time.
The White House's pardon announcement repeatedly referred to the crimes that Papadopoulos and Van der Zwaan pleaded guilty to as "process-related" — lying to federal investigators is a felony that can carry up to five years in prison.


[ad_2]

Source link